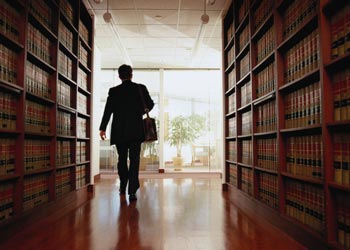 If you're under investigation for a sex crime, call our criminal defense attorney as soon as possible.
We don't advise speaking with law enforcement until you have the benefit of a defense attorney sitting beside you. Otherwise, you run the risk of saying something that could hurt you later. Attorney Jerry Lykins has over 25 years and having represented over 300 hundred clients facing charges of CSC.
We can help with sex crime cases involving:
Criminal Sexual Conduct
Criminal Sexual Misconduct
Sodomy
Date rape
Statutory rape
Child molestation
Child sexual assault
Sex offender registry
Indecent exposure
Investigations at college or university
Other sex crimes
Sex Crimes Attorney
Our sex crimes attorney understands that there's more at stake than just your freedom. Having to register as a sex offender would affect your career, relationships, reputation, and even where you choose to live or go to school. Fortunately, our sex crimes lawyer can use different strategies to prove your innocence, such as challenging the collection methods of law enforcement.
Evidence such as DNA and fingerprints can only go so far toward proving guilt in a sex crime case. Our criminal sexual conduct attorney will do his own investigating and can even hire experts to make sure law enforcement didn't compromise evidence or make mistakes during analysis.
It's important to understand that the prosecution must meet the burden of proof before charging you with a sex crime. Meanwhile, our Michigan criminal sexual conduct lawyer will do everything in his power to knock down their evidence and introduce doubt toward the prosecution's witnesses. Attorney Jerry Lykins and CSC lawyers in Michigan will fight for you every step of the way.
Sex Crimes Against Minors
At Lykins Law PLC., we will combat the potential damage a CSC conviction involving a minor can cause. We recognize that sexual assault charges could ruin your reputation and future. Our Michigan criminal sexual conduct attorney will work to ensure you are content with the outcome of your case.
Our CSC lawyer in Michigan impartially defends clients in cases involving minors. We will diligently defend our clients who have been wrongfully implicated in CSC or statutory rape cases.
A CSC conviction will remain on your record permanently, and we will relentlessly strive to ensure this doesn't occur. Depending on the weight of the charges you are facing, your name could be put on the Michigan Public Sex Offender Registry.
Many people are falsely accused of sex crimes, and our CSC lawyers in Michigan knows how to inspect every aspect of your case thoroughly for this reason.
Criminal Sexual Conduct (CSC) Charges
If you or someone you know has been charged with any sex offenses in Michigan, reach out to us as soon as possible to talk to a Michigan criminal sexual conduct lawyer. Starting your defense now could give you a decisive advantage in your case. Our attorneys are ready to begin interviewing witnesses and studying the particulars of your case to fight for your interests.
We are CSC lawyers incorporating service in Michigan who represent clients that have been charged with sex crimes, including:
Sexual Assault
Indecent Exposure and Lewd Conduct
Child Molestation and Sexual Abuse
Statutory Rape
If you have ever been convicted in the state of Michigan, our criminal sexual conduct attorney in Grand Rapids, MI, will offer full post-conviction and appeal aid to help clean your record after a conviction.
As Michigan CSC lawyers, our only priority is to ensure your rights are thoroughly protected in your Michigan sexual assault case, giving you the most acceptable result possible.
A damaged reputation can follow you for the rest of your life. Our CSC lawyers incorporating service in Michigan gives you the best chance at freedom and is peerless in defending the accused's rights in the state.
Charges Under the Criminal Sexual Conduct Act:
Sex crimes cases are investigated and prosecuted with high priority by law enforcement. Being placed onto the Sex Offender Registry (SORA) can harm your reputation as a person and also negatively affect your career, relationships and personal life. Living with a sexual assault lawsuit may also have an impact on your professional life and lead to abominable consequences. Speaking with law enforcement is not advisable as you may say or inform them with something that can be used against you in the proceedings. If you are arrested and booked under CSC (Criminal Sexual Conduct), we suggest you get a defense attorney as soon as possible.
Below are the maximum prison and Sex Offender Registry punishments associated with Michigan's sex offenses:
1st Degree: Punishment up to Life in prison and Lifetime GPS tether;
2nd Degree: Punishment up to 180 months in prison and 25 years on SORA;
3rd Degree: Punishment up to 180 months in prison and 25 years on SORA;
4th Degree: Punishment up to 24 months in prison and 15 years on SORA.
At Lykins Law PLC, has been zealously defending individuals accused of sex offenses for 25 years. Our sex crimes lawyer will study the case and strategically come up with arguments that can prove your innocence. To prove you guilty, the Prosecuting Attorney must gather evidence such as statements, confession, DNA and fingerprints. To combat this, Lykins Law will do their own investigation and will even hire professionals that will make sure that the law enforcement did their job without any errors or make any mistakes during the analysis. Contact us today, to handle your case to a professional Michigan criminal sexual conduct lawyer.
Start Defending Your CSC Charge Today
To request a consultation with our Grand Rapids sex crimes attorney, call Jerry Lykins Law at (616) 540-0443.
Frequent Searches: Michigan criminal sexual conduct lawyer, criminal sexual conduct attorney, CSC lawyers in Michigan, CSC lawyers incorporating service Michigan, criminal sexual conduct attorney in grand rapids mi