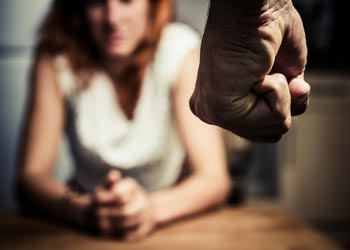 Charges concerning domestic violence impact more than simply your criminal record, they also ruin your reputation.
Our top domestic violence lawyers understand the consequences of a conviction, which is why they'll do everything in their power to help you avoid harsh legal consequences.
What is Domestic Violence?
Domestic violence is basically assault and battery, except it happens between you and someone you're living with or dating. This could be a spouse, girlfriend/boyfriend, child, someone you share a child with or even a roommate. Our defense attorney understands that domestic violence cases are often charged with emotion, which is why he focuses on the facts and what can be proven in court.
When people come to our lawyer with a for domestic violence case, they usually think in terms of physical assault that results in visible injuries. But, this is only one type of abuse. There are multiple types of abusive behaviors and cases that our top domestic violence lawyers can handle. Explore the next sections to find out more about the ways to identify domestic violence.
Types of Abuse:
Verbal Abuse: Threats and Blame
Sexual Abuse
Emotional Abuse and Intimidation
Control
Isolation
Economic Abuse
First Time Offenders
If you're a first-time offender, the judge may choose not to enter a conviction on your record. However, this is provided that you enter a diversion program and follow the conditions of your probation.
The conditions of your probation will depend on your case but may include counseling, drug testing, or alcohol testing. The goal of the diversion program is to help resolve issues that led up to being charged with domestic violence, such as substance abuse.
One of the benefits of the diversion program is that you can honestly say you've never been convicted of a crime once you successfully complete probation. The best domestic violence lawyer can assist you in paving the road for this verdict if you haven't yet been charged with assault and battery.
Assault – Domestic Violence
Having to face domestic violence or spousal abuse-related convictions can be life-changing. As opposed to regular assault or battery cases in the state of Michigan, the penalties, if convicted, are more stringent. Domestic violence lawyers at Lykins Law will help form the best defense for your case to avoid these outcomes.
Under Michigan law, assault happens when a person has put another person in fear of being hurt. You will need a domestic violence lawyers assistance to understand how assault charges work under Michigan law.
Physical contact is not necessary; they only need to be put in fear of being hurt. An assault is an intent to perpetrate a battery or an action that would cause a rational person to question or worry about suffering an immediate battery.
If you are being charged with assault or domestic violence charges in Michigan, distinguished domestic violence lawyers can help you build the most suitable defense. The best domestic violence lawyer will have an understanding of local laws that may affect your case and assist in mitigating punishment.
Consequences of domestic violence charges
If you are being charged with domestic assault or aggravated domestic assault, the sentences can be harsher if you have a prior record of similar charges. An experienced domestic violence attorney can help you understand the intricacies of your case and the measures required to fight the charges.
For domestic assault, you can receive a maximum penalty up to one year in jail and a fine of $1,000 for misdemeanors. The penalty for a felony charge, for assault and aggravated assault, can be up to five years in prison and a fine of $5,000.
Having to face domestic violence offenses can be harrowing, particularly if you regard the charges to be false. In this case, you need to seek immediate legal representation from a lawyer for domestic violence case.
Our domestic violence attorney will determine the best defense to assist you in facing these allegations. We recognize that domestic violence cases include relationships and are often complicated. After listening to your side, our lawyer for domestic violence case will develop our case to avoid facing jail time.
Hire a skilled lawyer to fight your domestic violence charge
Our Grand Rapids defense attorney will work hard to clear your name and help you secure the best legal outcome for your case. Attorney Jerry Lykins, who has represented thousands of clients at all levels, and in various courts in the 11 counties surrounding West Michigan is available 24/7 by call or text. For a consultation with our domestic violence attorney, text or call Jerry Lykins Law at (616) 540-0443.
Frequent Searches : Top domestic violence lawyers, best domestic violence lawyer, lawyer for domestic violence case